We are very excited to announce that our free
'iPhone App' is here!

Requirements: Compatible with iPhone, iPhone Touch, and iPad. Requires iOS 4.0 or later.





Click the App Store below to
review and download our App:

In Itunes just type:
"empowered bible study"


---
We are very excited to
announce that our free
'Android App' is here!





Click on the Android Store Logo below to review and download our App:


(Compatible with Android 2.2 and up)

---


Empowered Bible

Study Ministries

Bible study is essential to our Christian walk. As we study God's Word, our personal relationship
with God grows deeper and deeper. It empowers us to live for the Lord
in every aspect of our lives. This is
what has inspired me to do an online Bible studyies.





Personal Growth

Links That Will Inspire You

Inspirational Tools



Tribute

Swede & Dorothy

Bill


The Journey
Intro


Creation vs. Darwinism
Doubts of Darwin


The Evolution Debate

The Grand Experiment

Intelligent Design

Interview by RC Sproul

The Flaws of Evolution



Evolution vs Creationism

Three Evolutionary Hoaxes



More About Creationism



Apologetics

Introduction to Apologetics:

Maps:




The uniqueness of the Bible
and the men who wrote it:


More about Apologetics:



Current News and Events!





The Dead Sea Scrolls now online:



The scrolls, considered
by many to be the most significant archaeological find of the 20th century.

Please click on the manuscripts below to see and read them in a Digital Format. First time ever to
read these on your own computer thanks to Google and the Israel Museum.



Follow our Podcasts:

At itunes type in

'changed lives today' and/or 'Empowered Bible Study' in the Search Field.



Blog:
http://empoweredbiblestudy.blogspot.com


---
Jesus.Org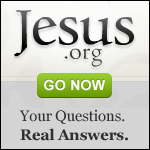 Jesus.org offers biblically based answers to the many questions surrounding Jesus birth, life, death, and resurrection. Our database of questions and answers in text, video and audio formats, provides everyone, from seekers to Church leaders, access to some of the best available content about Jesus.



---
Evel Knievel
Watch the inspiring testimony of the legendary: Evel Knievel. You will see how he gave his life to Jesus Christ just before his death.

---


Click or take a picture of the
QR below to go to
'Empowered Bible Study Ministries'



Click or take a picture of the
QR below to go to
'Empowered Bible Study Ministries'
Smart Phone App

( EBS Ministries )


---


How to Know God:

To find out how you can Know God and have a Personal Relationship with Him, please click on the icon below.
.
Today OnePlace.com
is the leading provider
of Christian audio content on the Internet. Listen to your favorite Christian broadcasters, such as:
James Dobson
John MacArthur
Chuck Swindoll
Dr. David Jeremiah
Tony Evans
Kay Arthur
Beth Moore...
...and many more any time at your convenience!

Lightsource.com, is the leading provider of Christian video content on the Internet. Watch your favorite Christian broadcasters any time, at your convenience!
Streaming Christian Radio and much more. Click on the icon above to listen to live radio or peruse the sight for Bible Study tools and much more.

Positive and encouraging
Christian music. You can
also visit their sitefor an encouraging word, news
podcast and weather.
The Gospel.com community is made up of hundreds of Christian organizations with a passion for sharing the Good News. Ministries range in size and scope from large international organizations to one-man blog ministries, but each is committed to making a difference for Christ.
This Powerful Software will help you discover and explore the Bible like never before. Click on the icon above for a free download.

---
Your Personal Sermon Player

If you do not see the player, please
refresh the screen.




Please click, or double click if needed, on the video you would like to see to be able to listen or see the messages and songs by different speakers and singers


Due to occasional updating you may have to view the
Personal Sermon and Devotional Player at a later time .

Sermon Player stands as the most innovative way to broadcast your media online. The player is in constant development.
There is a reason Sermon Network services thousands of Christian ministries around the world. Our service is easy to use. Our network is reliable. And our customer service is our top priority. If you are just getting started or have been publishing your services online for years we are the right partner for you.

Please visit our alternalte site:
clt.sermon.tv
to hear and see all of the Audio and Video.
---
Our aim is to offer the freshest and most compelling biblically-based content to Christians who take seriously their relationship with Christ. Bible Study Tools gives Christians of any age and at any stage the opportunity to read, study, understand, and apply the Bible to their lives.
Passage Lookup
| | |
| --- | --- |
| | The mission of the CCEL is to build up the church by making classic Christian writing available and promoting their use. |



Zondervan is a world leader in Christian communications and the leading Christian publishing brand. We replica breitling work to meet the needs of people with resources that glorify Jesus Christ and promote biblical principles.

Zondervan produces bestselling and award-winning Bibles, books, children's products, software, audio, video, and digital products.