We are very excited to announce that our free
IPhone App is here!

Requirements: Compatible with iPhone, iPhone Touch, and iPad. Requires iOS 4.0 or later.





Click the App Store below to
review and download our App:

In Itunes just type:
"empowered bible study"


---
We are very excited to
announce that our free
Android App is here!





Click on the Android Store Logo below to review and download our App:


(Compatible with Android 2.2 and up)

---


Empowered Bible Study Ministries

Bible study is essential to our Christian walk. As we study God's Word, our personal relationship with God grows deeper and deeper. It empowers us to live for the Lord in every aspect of our lives. This is what has inspired me to do an online Bible studyies.



Personal Growth

Links and Tools That Will Inspire You




Tribute

Swede & Dorothy

Bill


The Journey

Intro


Creation vs. Darwinism

Doubts of Darwin


The Evolution Debate

The Grand Experiment

Intelligent Design

Interview by RC Sproul

The Flaws of Evolution



Evolution vs Creationism

Three Evolutionary Hoaxes



More About Creationism



Apologetics

Introduction to Apologetics:

Maps:




The uniqueness of the Bible and the men who wrote it:


More about Apologetics:


Current News and Events!




The Dead Sea Scrolls now online:



The scrolls, considered by many to be the most significant archaeological find of the 20th century.

Please click on the manuscripts below to see and read them in a Digital Format. First time ever to read these on your own computer thanks to Google and the Israel Museum.



Follow our Podcasts:

At itunes type in?

'changed lives today' and/or 'Empowered Bible Study' in the Search Field.



Blog:
http://empoweredbiblestudy.blogspot.com


---
Jesus.Org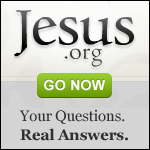 Jesus.org offers biblically based answers to the many questions surrounding Jesus birth, life, death, and resurrection. Our database of questions and answers in text, video and audio formats, provides everyone, from seekers to Church leaders, access to some of the best available content about Jesus.



---
Evel Knievel
Watch the inspiring testimony of the legendary: Evel Knievel. You will see how he gave his life to Jesus Christ just before his death.

---


Click or take a picture of
the QR below to go to
'Empowered Bible Study Ministries'



Click or take a picture of
the QR below to go to
'Empowered Bible Study Ministries'
Smart Phone App

( EBS Ministries )


---


How to Know God:

To find out how you can
Know God and have a Personal Relationship with Him, please click on the icon below.
.





First, we would like to say that we are thankful for you visiting our site. Whether a Christian or not, both can grow in their faith and come to have faith in Jesus Christ respectively. This website is not about showing you one way to finding God but to show you "the only" way to find God. We know, it sounds so exclusive to say "only one way". Jesus said: "that the only way to the Father is through Him".

The definition of "Organized religion" generally refers to an organization of people supporting the exercise of some religion with a prescribed set of beliefs that will help them to be able to find God on their own. With that said, we want you to know that we are not saying that all organized religion is bad or that you should not go to church, but that God wants us to have a "Personal Relationship" with Him.

This is what our website is for, to help lead you on a Journey that will bring you into a relationship with God and for those who already have a relationship, can grow in your faith and walk with God.












---